I baked pumpkin cookies: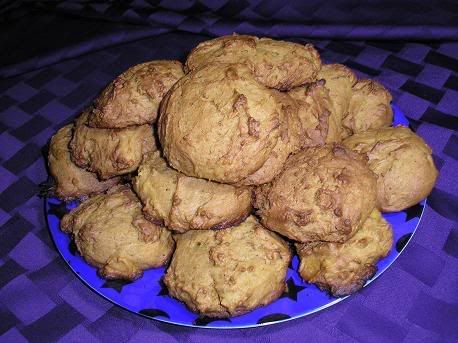 This pile got bigger, then got smaller pretty rapidly. These are quite yummy!
I used a recipe on
Vegweb
,
Who Knew It Was Vegan Pumpkin Cookies
. I'm not a vegan nor do I think I will ever be, but my roommate is and I wanted to try out a vegan recipe. I know I can bake normally, do my skills stand up to the Vegan test? Well, if these cookies are any indication, I would say so.
I also finished a cardigan yesterday. The one I started last week, with a deadline of today to send out tomorrow. I am insane, yes, but I have mad skillz, ya know, and pulled through: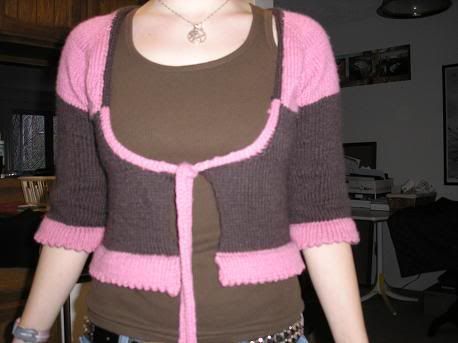 obligatory taking-a-picture-of-myself boob-shot.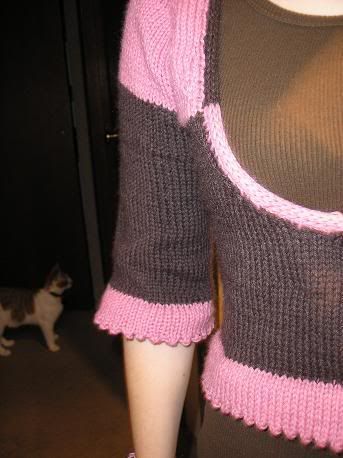 Did I mention last week was finals week? Yeah, uhm, multi-tasking and not sleeping are hobbies of mine.
The specs
Pattern:
Cropped Cardigan With Leaf Ties
on Knitty.com and in Fitted Knits by Stephanie Japel
yarn: Dark Horse Fantasy, 50/50 Acrylic/Nylon. Colors 22/Brown and 33/Pink. Softest stuff ever. Feels like butter.
Needles: US 7's, same as pattern. My size 7 circs are horrid, I need new ones.
Mods: Knitted the sleeves in the round, not quite sure why Glampyre always writes her patterns for knitted flat sleeves. Other than that, nothing really.