So, my mom FINALLY decided to put on the vest I made and pose for a picture with me:
(she's not usually that squinty, but apparently both pics that were taken ended up the same)
So, I guess I should give you some info on this
Pattern:
Tori
from
Magknits
Yarn:
Swish DK
from
Knitpicks.com
7 skiens
needles: US 4
Notes: knit in the round, and used only one type of yarn. Cast on for the ribbing first and just continued up for the body. Didn't see any point in picking up for the ribbing at the bottom as I was knitting it all in one yarn. Other than that, I followed the pattern pretty closely.
My aunt Sandy finally emailed my dad and my dad finally emailed me the pics from Thanksgiving and here's a much better picture of me in my vest: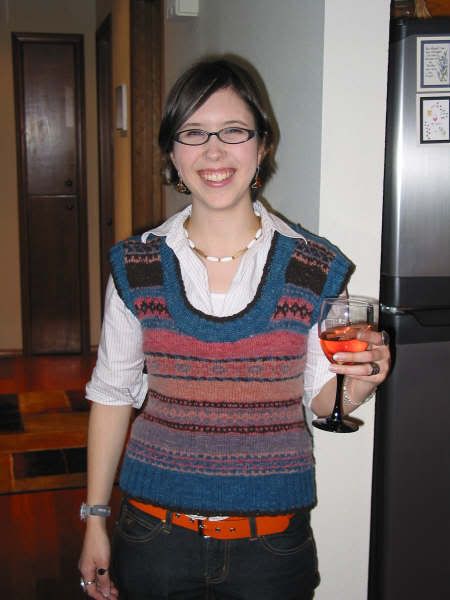 If anyone asks, that's sparkling cider in that wine glass, mmk? Not quite 21 yet (a week and a half!!)
I need to snap some pics of the yarn my dad got me for xmas. It's gorgeous and squishy. Oh, and I need to block the scarf for my aunt Sally. I need to get off my bum and do some work!