It's just all been Christmas-related for my family, who tend to be a bit camera-shy. I did manage to get a couple shots of my bro wearing his new fingerless gloves: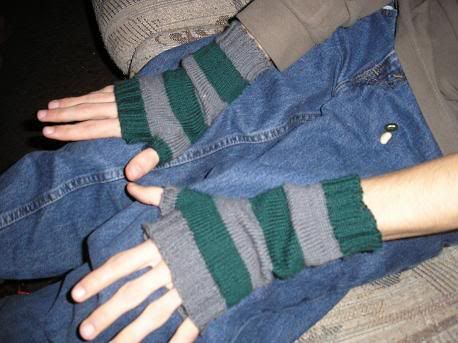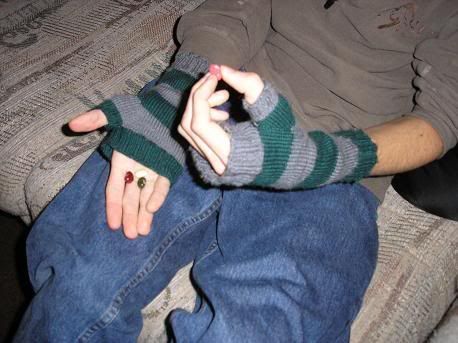 (eating Jelly Bellys, yay for way too much sugary stuff)
yarn: Knitpicks essential in ash and pine, leftovers from his socks
pattern:
Kat's Paws
by ScarlettKnits, though not exactly. Modded as it pleased me.
needles: US 1 DPNs
I also finished the vest for my mom in time (two days before Christmas! I did it!) but she hasn't put it on long enough for me to take a picture. I'll make her put it on soon, though.
Seeing as Christmas just passed I should mention all the awesome things I got. Handspun yarn from my aunt in blue and green (I WILL take pictures and post here, but maybe later) and some Opal sock yarn, which is already on the needles to possibly become knee-highs, though I'm not 100% sure I have enough yarn. We shall see. I also got a HUGE spice rack that I'm incredibly excited for. Also, a new paring knife and a sharpener, so I can now sharpen my favorite chopping knife. I also got a ton of food in the form of a giant bag of rice and a box of granola bits. Yum. I'm supposed to get one more gift from my cousin Jessica, but apparently it was forgotten and still at her house. I'm not incredibly concerned, but everyone else thought it was a tragedy. At least I have some fodder to make fun of her for a while?
I also just finished a scarf for my aunt but it requires some intense blockage. I may get it to her today so she can block it, and the only pictures I will have will be pre-blockage, if not it will be taken to my apartment and blocked and multiple pictures will be taken and posted all up in here. I have a feeling she'd rather have me block it, seeing as she paid me a bunch for it and it's already late another week won't hurt.
In the next couple days I'll be posting my new years resolutions. I've been working them out in my head, figuring out what I really need to be doing this year. I'm sure it will be fascinating.