So, I started this silly thing last September and I finally finished this on Thanksgiving so I could wear it to see family. I didn't bring my camera to my parent's home with me, however. I brought home my camera cord and extra batteries for it, but the camera didn't quite make it into the bag (when I got back to my apartment I saw my camera sitting right next to where my bag was while packing. *sigh*)
But I finally felt motivated enough to put this thing back on and take pics: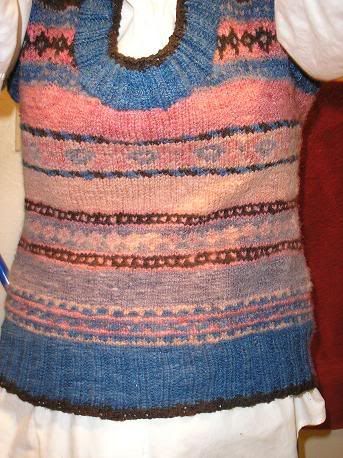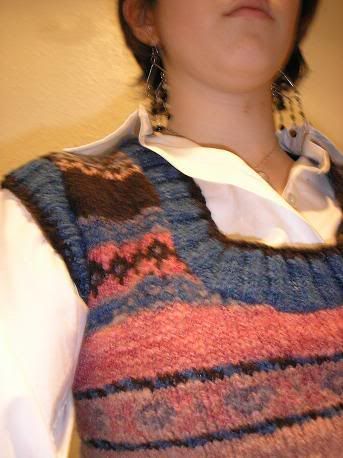 Here's the specs:
Pattern: Fair-Isle U-neck pullover in VK Fall '06
Yarn: hand spun from my aunt Kathy. She raises sheep and spins yarn with the wool and dyes it with natural dyes. The dyes used for these colors were cochineal, madder root, indigo, and log wood, with some natural black sheep in there. This yarn has lots of lanolin in it (esp the black sheep, it's sticky which is why there isn't much of it in the sweater) which makes it super warm. It's also relatively waterproof, but that's not all that important in a vest.
Needles: US 5s for the body and 4s for the ribbing. Same as in the pattern.
Mods: I did it in the round (only someone crazy would knit this flat, the loose ends! Oh my the loose ends!) and I left off the sleeves and just picked up stitches and matched the collar. I also ended up with fewer stitches for the neckline than specified, but it doesn't seem to have mattered much. Everything else is pretty much the same.
I got SO many compliments on this at thanksgiving, mostly cause I was seeing all my aunts who are friends with Kathy (who's not so much my aunt as my dad's cousin but I call her aunt anyways). Yay for finally finishing things! I'm also blocking a scarf right now but it's for a swap so I can't show it off just yet, but I promise I will!