Well, I should probably document the knitting I've done recently (that is, in the last several months). I'm home with a horrid sickness that is making my head pound and my nose red. Ick. So, I have naught but time. I'll start with the yule presents I actually got pictures of: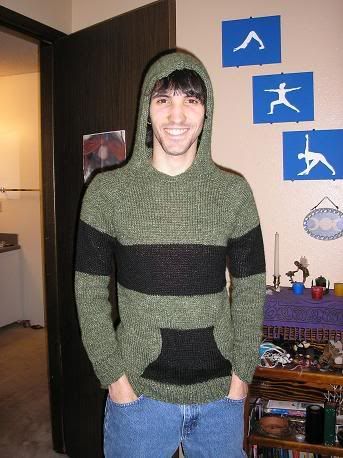 Pattern: Hackey Sack Hoodie from Son of Stitch and Bitch
Yarn: Hempwol by Hemp for Knitting, 35% Hemp, 65% Wool, 4 skiens green 1 skien black
Needles: US 8
Mods: My brother is tiny, so I had to make this thing MUCH smaller. The funny thing is that my gauge was WAY off after I started so I ended up just increasing the same amount for the body as for the smallest size in the book, but it ended up much smaller. It fits me, if a bit tightly in the chest area. Not surprising, I do have boobs.
Notes: For Yule, but finished a bit late. He got it when the family came up for my birthday.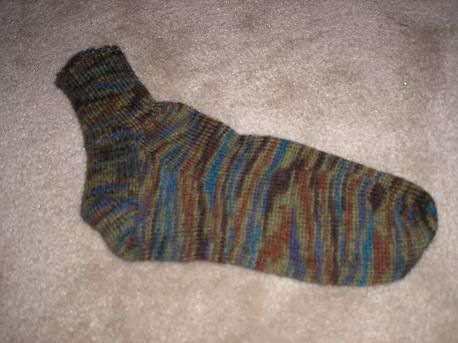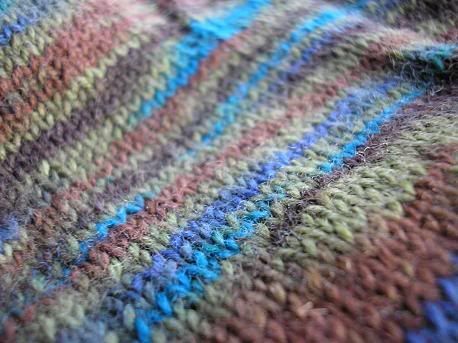 Pattern: Self-designed
Yarn: Regia Design Line by Kaffe Fassett
Needles: US 1 DPNs.
Notes: Knitted up pretty fast, even finished early for Yule. I wish I had got a picture of him wearing them, as by now they are very pilly and dirty. He wears them a lot. I will probably have to make him another pair sometime.
I knitted so much more this last holiday season, but didn't have time to get pictures of most of it! I knit something for EVERYONE on my mom's side. A couple very cute hats for my female cousins, a lace scarf for an aunt, leg warmers for another aunt, neck warmer for my grandma, and 7 hats that were almost the same for everyone else. I didn't put down the needles much in December. Finished a scarf for my mom a couple days after giftmas, and unpinned a Branching Out for my cousin on my dad's side the day of giftmas. It was hectic.
This is about all I have time for right now. A very kind gentleman (my bf) just came in with food. I'll get to the rest of the stuff soon. I promise.