I finished two cardigans within a week of each other. And then failed to blog about them. Silly me! Well, here they are, in order of creation: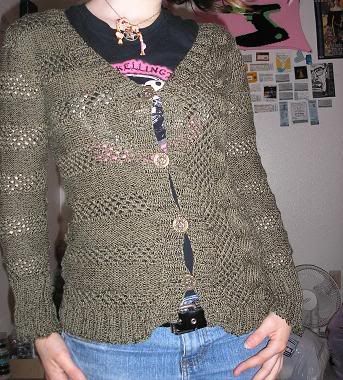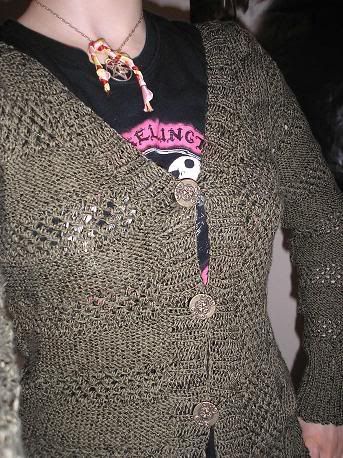 Pattern: $1.50 Cardigan by Veronik Avery from the 2007 Spring IK
Yarn: Elann Endless Summer Luna 5039, this lovely olive green color that they don't seem to have any more
Needles: Size 5s mostly, with 4s for the reverse stockinette sections
Mods: nothing, really, except for places where I kind of ignored what the pattern actually said and are not really mods so much as just subtle differences.
How long was I working on this? An embarrassing amount of time, really.
This is now my FAVORITE sweater. It's so nice and cool and perfect for those slightly chilly days. It looks lovely with everything, esp. browns. It fits very nicely, if a wee bit tight. Oh well. It's still perfect.
Now to the next one....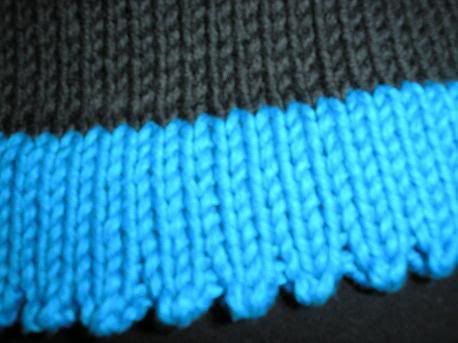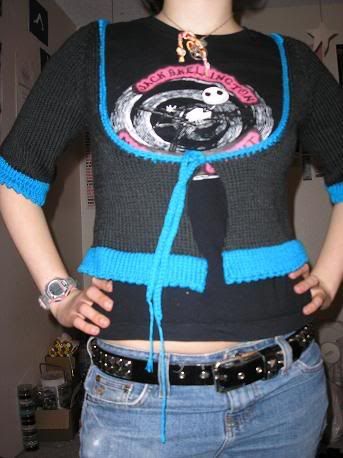 Pattern: Cropped cardigan with leaf ties by Stephanie Japel in
Fitted Knits
Yarn: Cascade Sierra, two skiens black one skien blue
Needles: size 6
Mods: the sleeves are shorter b/c I ran out of black yarn. I also knit a size smaller than I am b/c this yarn stretches. And it is still stretching and refuses to stay on my shoulders. I think I need to wash this and see if it fits better later. It's way too cute to not wear.
And so, with two sweaters down I need a new project. I thought of working on this: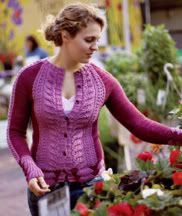 But it's a bit too complicated for in-class work, which is what I need right now to not go insane in most of my classes this quarter, so I'm thinking of starting some socks with this: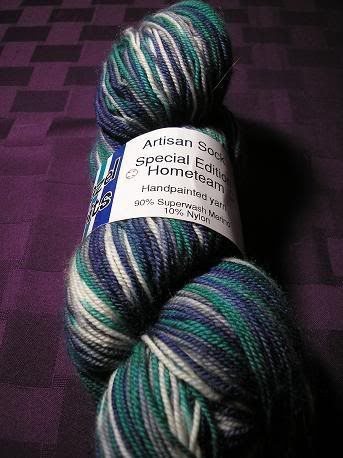 Seattle Mariner's Sock yarn. yessssss please. It is ridonkulously soft and the colors are very pretty. At this rate, the only projects I'll ever get done are the ones I can work on in class!