So, I have not posted here in a while, and there have been various obstacles in my path that have been partially responsible (working and school, then just working too much, needing new batteries for my camera, etc) but mostly, I have been lazy. It's on me. So, I have a few pictures of things I made this last year I should get posted before we end up too far into the new year: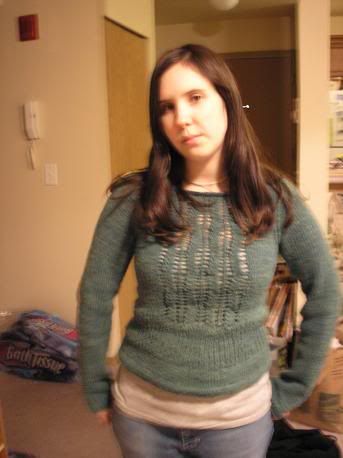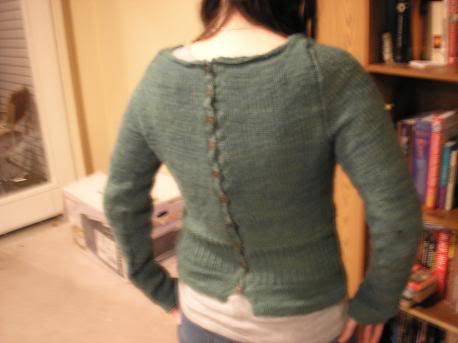 Pattern:
Elaine's Blouse
(ravelry link)
Yarn: Handspun from my aunt Kathy, from her sheep out in Eastern WA. Dyed with wolfmoss for yellow, overdyed with indigo to make green.
Needles: US6.
Notes: I did this pattern almost exactly as written (except for the unintentional modifications, but we won't mention those). I love how this sweater fits me. However, this yarn is super warm so I get a bit overheated if I wear it inside for too long. It's wonderful for wearing outside, or layered underneath something for extra warmth. I finished the knitting for this during the summer, but it took me until November to finish it up. Motivation to show off on Thanksgiving is what got my butt moving. At least it's done now.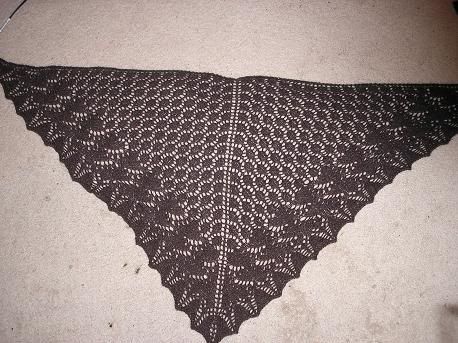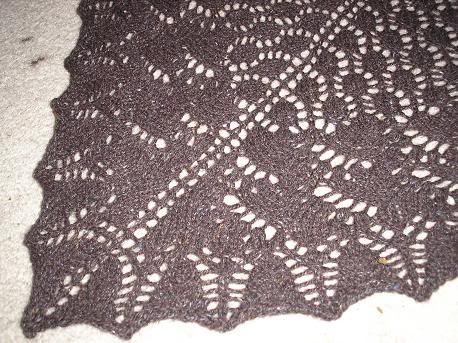 Pattern:
Swallowtail Shawl
Yarn:
Rowan Felted Tweed
2 skiens + a little
Needles: US6
Notes: Followed the pattern exactly. Glad I had an extra skien of this color floating about, as I like many others who have knit this pattern in this yarn have needed just a little bit of a 3rd skien. I love how this feels, the yarn and the pattern are beautiful. I need to get better pictures sometime, but as I am awake all night (thank you graveyard! :-P) and there is very little daylight right now as is, it's tough.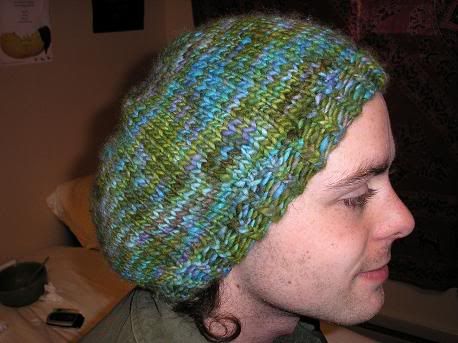 Pattern:
En Plein Air Handspun Beret
Yarn:
Manos Del Uruguay Wool Clasica
Needles: US10
Notes: This is the first of two hats I knit for Nick out of this pattern. The second has yet to be captured in pictures. I'll have to work on that. It's basically the same thing in a different color, but much bigger to hold all his hair. He has a LOT of hair! He loves these hats and I love that he loves funky colors, and is man enough to wear them on his head.
That's all the FOs I have for now. I completely neglected to take pictures of most of my Yule/xmas gifts. They were mostly quick scarves and hats anyways,
Branching Out
and
Dayflower
are my go-to scarves for quick and pretty gifts.
I DO have pics of a Yule gift yet to be finished: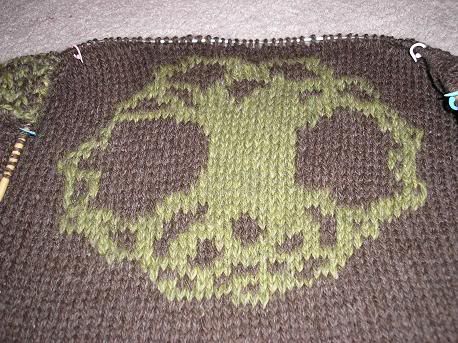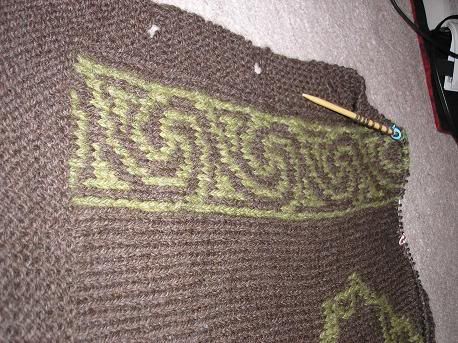 The body of a sweater. I've just got to do the sleeves, attach them and knit the yoke. Not too much more. And no more ridiculous colorwork! I know it doesn't LOOK that bad, but all the yarn for that tree got so damn tangled ALL THE TIME, it took so very long. It is done now, and I can move on to the easy parts.